The internet is a fathomless world in itself and there is no such thing as 'not available' – only that it is so in its virtual form. From personal profiles, to food recipes, from technology and sciences to art and culture, from psychology to commerce and economics of the real world. Presence in such a cybernetic world has become a significant identity criteria, especially so if you want to establish your business and portray your core values of sustainability, reliance, consistency and value adding supplier. The digital world has become the starting and the culminating point of almost all information, what more it gets stacked and stored forever for any future reference you need.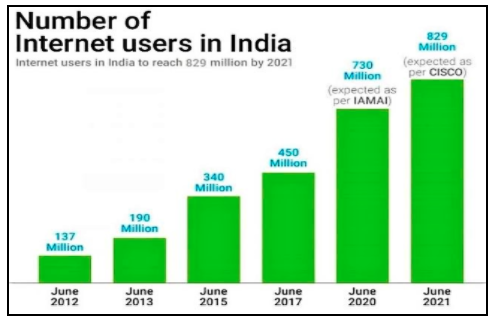 There is no need to separately highlight the penetration of the internet in India, today. The figures that are being forecasted for 2021 would in all probability supersede the actual count. There is internet access in practically every hand in the country. Having a digital presence actually means you have the power to reach every individual and have a personal dialogue without any interference or interruptions. Now, how incredible is that, for a Sales person trying to promote and push his brand and product, and close some orders for his Company?
So if you really want to rise to the next level, the real questions to ask here are
What if you want your publication with all its information, updates and feature articles to be available always, like forever?
What if you want to establish and demonstrate your core values with commitment and confidence?
What if you want to experiment, grab more market share with varying content, then monitor its readership results to refine the published content further for specific target audience segments?
And what if you finally want to build a depository of all the information and intelligence you have published, to be used as a reference tool or to compile an e-book, that too with returns?
i-docs (Internet documents) is the future
There is a one-stop solution that fulfils all the above criteria, and offers many other striking benefits. An electronic newspaper (e-newspaper) or an e-magazine is a stand-alone and independent, refreshable publication, and can be version of the traditional print newspaper or periodical that holds and dissipates information on the internet. Since the information can be updated and refreshed infinite times, can be edited and amended even after publication, i-docs carry a distinct advantage over their printed cousins.
Why wait, why not NOW?
The future is digital, and that receives endorsement from the reputed Reuters Institute for the Study of Journalism. They surveyed English-speaking Indians with internet access earlier this year, 38% of those over 35 years of age, identified online media as their main source of news, compared to 27% who identified print. Among those under 35 years, 56% identified online as their main source. 'They make up two-thirds of India's population, and they will have to be reached online first. A well-known and trusted publication brand can help with this. But print won't be the medium to reach them' Reuters firmly concludes.
You can avail the obvious benefits, exploiting all that the internet has to offer-
Keep in step with the times- it is the digital age
Reach readers beyond regional boundaries
Benefit from faster publishing and distribution
Get content flexibility
Digital Magazines do not kill the printed versions.
Receive analytics and get better understanding of readers choices
No revenue loss from unsold copies. 
Eases the process of book/ layout  creation
Provides an interactive reading experience to users
Editing Is possible even after publishing
Multimedia content- videos can be embedded making an attractive presentation
It is possible to analyse distribution and user behaviour
The Web formats give i-docs unlimited space and the opportunity to do things that print cannot do. 
Who can opt for the i-docs?
Any organisation that understands the importance of time and going digital can opt for i-docs. 
News publications- large to local, Organisations publishing their internal magazines. Educational Institutes (School, College, Hostel magazines), banks, hotels, NGOs, Publications of magazines and periodicals, research and training Institutes can all reap the benefits.

Inference
A vast number of articles, news stories, blogs and marketing material are read on mobile devices like smartphones, tablets, besides PCs., all of which are extremely convenient tools for reading digital content rather than physically purchasing print media and its storage. This publishing model is a multi-media platform which is designed for the digital age. Suited to both web browsers and smart devices, adopting it is a statement of intent that says your business is forward-thinking and able to adapt to a changing world.